Episodes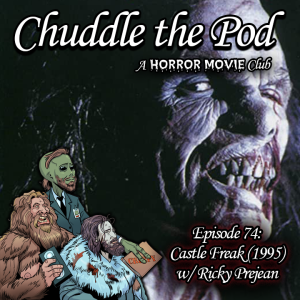 Wednesday Mar 15, 2023
Wednesday Mar 15, 2023
Hello chuddle club members! We pack our bags and head to Italy as we venture into the catacombs of carnage that is 1995's Castle Freak! With our special guest Ricky Prejean from the Nightclub podcast we catapult castle freak through our flail of questions to see if it has what it takes to make our chuddle club crypt! What happens when you lick a stone for 40 years? How much grief can you pack in a sadness sandwich? And does a white sheet always look chic? These questions and more in tonight's macabre episode. Grab your candelabras, make sure the gates are closed and count your sheet draped furniture and most importantly tune in!
Follow our guest!
https://linktr.ee/thenightclub
Join the Patreon!
Follow the Chuddlers on social media!
Discord: Chuddle the Discord
Chuddle the Pod: Slasher - @chuddlethepod IG - @chuddlethepod 
Sam on Letterboxd - @chuddlethesam
Ross on IG - @RossPurvis
Email: [email protected]