Welcome to Chuddle the Pod, the spookiest, gooiest and most scream-tastic movie club in town! Whether you're a fearless horror buff or a curious newbie, our fiendishly fantastic horror movie club is for you. Join the terrible trio of Ross, Bryan, and Sam as we embark on a delightful weekly adventure through the darkest corners of cinema. From timeless classics to hidden gems and the latest releases, we've got it covered. Looking for a place where you can embrace the darkness with a smile? Join our horror movie club on a journey of fear, laughter, and the joy that comes from sharing scary movies with fellow horror lovers!
Episodes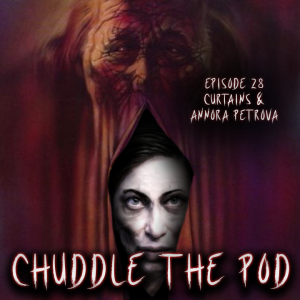 Monday Apr 11, 2022
Monday Apr 11, 2022
In this week's episode, we have a Ross's Video Roundup and a Creepy File. Sam and Ross skate their way through two terrifying segments and Bryan communicates from beyond the grave! I mean he's not dead, just on assignment but he communicates with the boys and tells us the tale of poor figure skater Annora Petrova! Then the curtains open on the hag hacking, serial killer skating spectacular as Ross gives us his review of Curtains!! Get your favorite pair of ice skates, turn that mysterious radio dial and enjoy!
Follow the Chuddlers on social media!
Chuddle the Pod Twitter @chuddlethepod IG @chuddlethepod  
Bryan Twitter @chuddlethebryan IG @chuddlethebryan
Sam Twitter @chuddlethesam  IG @chuddlethesam
Ross IG @chuddletheross
Email: [email protected]