Welcome to Chuddle the Pod, the spookiest, gooiest and most scream-tastic movie club in town! Whether you're a fearless horror buff or a curious newbie, our fiendishly fantastic horror movie club is for you. Join the terrible trio of Ross, Bryan, and Sam as we embark on a delightful weekly adventure through the darkest corners of cinema. Together, we'll answer the same bone-chilling and rib-tickling questions about a different horror film each week. From timeless classics to hidden gems and the latest releases, we've got it covered. Looking for a place where you can embrace the darkness with a smile? Join our horror movie club on a journey of fear, laughter, and the joy that comes from sharing scary movies with fellow horror lovers!
Episodes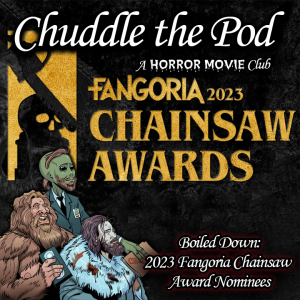 Sunday May 14, 2023
Sunday May 14, 2023
The Chainsaw Awards are quickly approaching and in this club meeting we are talking about all the nominees and going over our top picks! are you excited for the awards? Who do you think will take home a golden chainsaw? Listen now and join the club!
Join the Club!
Join the Patreon!
Follow the Chuddlers on social media!
Discord: Chuddle the Discord
Chuddle the Pod: Slasher - @chuddlethepod IG - @chuddlethepod 
Sam on Letterboxd - @chuddlethesam
Ross on IG - @RossPurvis
Email: [email protected]